Tear Sheet
Watsco Inc. is the largest distributor of air conditioning,heating, and refrigeration products in the Americas.
Price
Change
Volume
% Change
Today's High
52 Week High
Today's Low
52 Week Low
Today's Open
Currency
US Dollar
Previous Close
Exchange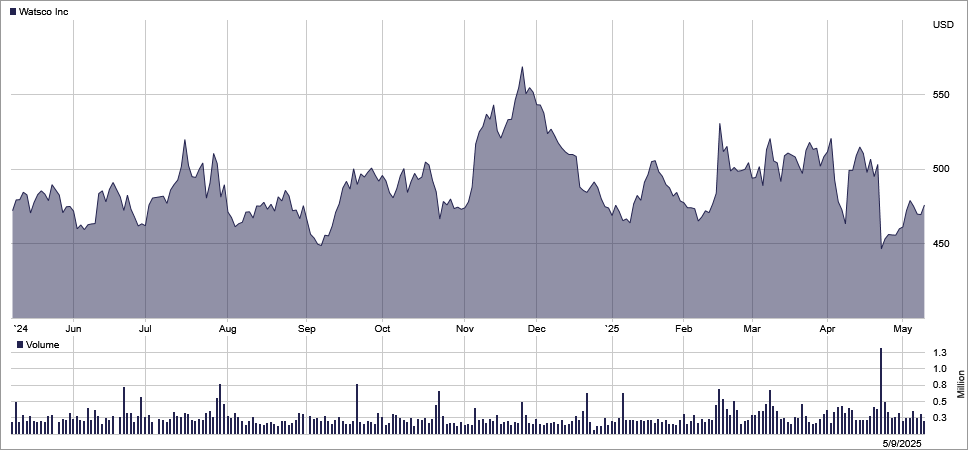 Copyright West LLC. Minimum 15 minutes delayed.
There are currently no events to display.
Reference Information - Earnings Per Share
| | |
| --- | --- |
| Last Actual (FY0): | 6.49 |
| FY0 End Date: | 12/1/18 |
| Ind. Annual Div: | 6.40 |
| Hist (5 Yr) Growth %: | 11.85 |
| Yield (%): | 3.52 |
Analyst Forecasts - Earnings Per Share
Last Month Revisions
Last Month Revisions
Fiscal Period
Mean
High
Low
Median
# of Estimates
# Up
# Down
Mean % Change
Annual
12/1/21
7.20
7.40
7.06
7.18
4
--
--
--
Annual
12/1/20
7.05
7.87
6.80
7.00
12
2
1
0.89
Annual
12/1/19
6.53
6.65
6.41
6.52
12
--
2
-0.10
Actuals - Earnings Per Share
| | | Reported | Mean Estimate | Surprise % Change |
| --- | --- | --- | --- | --- |
| Annual | 12/1/18 | 6.49 | -- | -- |
| Annual | 12/1/17 | 5.54 | -- | -- |
| Annual | 12/1/16 | 5.15 | -- | -- |
Corporate Governance
Albert H. Nahmad

Chief Executive Officer

Albert H. Nahmad has been the visionary founder and leader of Watsco for over 40 years, having served as our Chairman and Chief Executive Officer since 1972. Among his many contributions, Mr. Nahmad has been instrumental in the scaling of our business through acquisitions, the cultivation of strategic vendor relationships, and the development of Watsco's entrepreneurial culture. In 1988 Mr. Nahmad made the decision to pivot the Company's strategic focus from manufacturing to distribution of HVAC/R products. Since that time, Watsco's market capitalization has grown from $22 million to $5.2 billion, and its 30-year compounded annual growth rate of total shareholder return has been 18%. With revenues exceeding $4 billion, Watsco has solidified its place as the industry leader and now has approximately 5,200 employees serving approximately 90,000 contractor customers through a branch network of 571 locations. He serves as chair of the Strategy Committee.

Aaron (A.J.) Nahmad

President

Aaron J. (A.J.) Nahmad has served as the President of the Company since January 2016 and as a director since 2011. He served as Vice President of Strategy & Innovation from July 2010 until January 2016 and as Director of Global Business Development beginning in 2005. He holds a B.A. from the University of Pennsylvania and a M.B.A. from New York University's Leonard N. Stern School of Business. He is the son of Albert H. Nahmad. A.J. Nahmad has led the transformation of Watsco into a technology-enabled business. His promotion to President in January 2016 recognized this leadership and acknowledged the importance of the successful execution and adoption of these innovations across the Watsco enterprise. He is a member of the Strategy Committee.

Stephen F. Rush

Executive Vice President & Chief Operating Officer

Stephen F. Rush was promoted to serve as Executive Vice President and Chief Operating Officer ("COO") of the Company on April 1, 2019. Mr. Rush joined the Company in 2001 and served in various leadership roles at several operating subsidiaries of the Company through 2016, when he assumed a non-executive advisory role in the Office of the President. As COO, Mr. Rush will oversee the Company's primary operating subsidiaries, while assuming other operational responsibilities of the Company. He brings core leadership skills from his more than 40 years of experience in the HVAC/R distribution industry.

Barry S. Logan

Executive Vice President - Planning & Strategy and Secretary

Barry S. Logan has served as our Executive Vice President - Planning & Strategy since September 2019 and previously served as a Watsco director from 2011 to 2018. Mr. Logan served as Senior Vice President from November 2003 to August 2019, as Vice President of Finance and Chief Financial Officer from 1997 to October 2003, as Treasurer from 1996 to 1998 and in other capacities beginning in 1992. Mr. Logan is a certified public accountant. Mr. Logan was Watsco's fourth corporate employee and is an integral participant in the Company's business development initiatives, financial and other strategic activities during his 27-year career. He is also the principal contact with the institutional shareholder community and, as such, is the principal contact for engagement with our shareholders.

Ana M. Menendez

Chief Financial Officer & Treasurer

Ana M. Menendez has served as our Chief Financial Officer and Treasurer since November 2003, as Treasurer since 1998, and as Assistant Secretary since 1999. Ms. Menendez is a certified public accountant. Ms. Menendez supervises all financial and accounting aspects of the Company, including taxes, risk management, benefits, treasury and cash management, the Company's system of internal control and other compliance activities. She also is the leader and principal contact for the Company's banking relationships and actively participates at a senior level in a variety of strategic activities. Ms. Menendez served on the Advisory Board of the College of Education at Florida International University from 2013 through 2015. She is a member and board chair of the Miami branch of the Federal Reserve Bank of Atlanta.